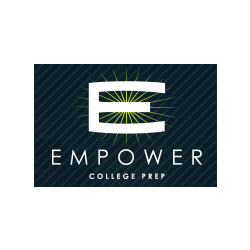 High School SPED Teachers
Sorry, this job has expired.
Phoenix, AZ
School Year 2020-2021

Empower College Prep began in 2012 with a commitment to be a movement of teachers partnering with parents to transform the educational and life opportunities of their children; and to empower these children to transform their community, their country and their world.

In 2020, we look forward to sending our first class of students to college, expanding to serve grades K-2, and welcoming more than 800 students onto a new, $20 million campus on the I-17 just north of Camelback.

The key to our success is highly effective, highly committed teachers who love both their content and their students.

If you would like to be a part of empowering scholars to succeed in college, solve real-world problems, and maximize their impact in the world, apply to join the Empower Team.

In addition to full-time positions, part-time options are available for highly effective teachers wishing to return to the workforce.

We offer a competitive salary and benefits package. Empower College Prep qualifies for the Teacher Loan Forgiveness Program as a school that serves low-income students.

The Exceptional Student Services Teacher will:

Hold a valid special education teaching certificate (required).
Demonstrate a history of strong proficiency in in providing Specially Designed Instruction, preferably in a low-income community with a significant number of students whose primary language is not English.
Demonstrate a strong proficiency in writing, following, and supporting IEP and MET processes that are in compliance with IDEA.
Demonstrate the ability to form and maintain positive relationships with students and families and support students and families through high school as well as the transition to post-secondary education.
Demonstrate strong organizational, planning, and implementation skills.
Demonstrate a relentless commitment to fulfilling the mission of Empower College Prep and its values and habits for success.
Demonstrate a high level of personal integrity, professionalism, and urgent drive to succeed.
Demonstrate the ability to give and receive constructive feedback.
Hold an SEI endorsement, SEI certificate, or ESL endorsement (required).
Hold a valid IVP (Identity Verified Print) fingerprint clearance card (required).
Be highly qualified in core content area or elementary content subject knowledge (preferred).
17135